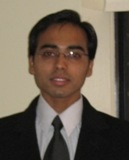 Anil Shahdadpuri, Analyst
anil@bostonnationalcapitalpartners.com
Phone: 781.304.4751
Anil recently earned his MBA with a concentration in finance from University of Massachusetts and currently he is a candidate for CFA Level 2. He authored an in depth report on identifying 'Investment Opportunities' in Emerging Market Countries with a special focus on India. He participated with Prof. Lucia Gao at UMass in preparing an event study on studying impact of Environmental Regulations on company values. Anil was a senior member of University of Massachusetts Investment Club and participated in building portfolio investments focused on Technology and Telecom Sector. He interned with Fish and Richardson in Boston and successfully completed a project on Accounting geared to enhance production efficiencies in small businesses. Anil is fluent in English, Hindi and Gujarati.